Hi, Greetings from Foodtech_network
I'm pleased to present our virtual training program. Training details are as follows
FSMS As per ISO 22000:2018

Sep 03 – 04 (Saturday – Sunday) 
Time – 10 am to 6 pm
Fee – 3000/-
FSSC As per v5.1

Sep 17 – 18 (Saturday – Sunday)
Time – 10 am to 6 pm
Fee – 3000/-
HACCP As per IS 15000:2018

August 27 – 28 (Saturday – Sunday)
Time – 10 am to 6 pm
Fee – 3000/-
Discount
Any 1 training – 3000/-
Offer, Any 2 Training – Fee ONLY Rs – 5000/-
Offer, All 3 Training – Fee Rs – 6500/-
Course Aim: To provide guidance and practical experience in planning, executing, reporting, and audit follow-up of an internal audit, when monitoring the effectiveness and conformity.
Trainees will be aware of current best practices in the audit process as per international standards and encouraged to develop their skills for audit purposes through discussions, analysis, and practical examples. On completion, trainees should have gained the knowledge and skills required to prepare for and conduct internal audits.
Who should attend:
Business owners and leaders
Operations Managers, Supervisors, etc.
QA/QC managers & supervisors
Production managers & supervisors
HACCP team, Auditors
All food handlers
Anyone working in food-related organizations.
Students or Anyone desiring to learn and improve on their knowledge of Food Safety Management Systems.
Learning objectives:
At the end of the course you will:
Understand the application of Food Safety Management Systems, FSSC V5, or HACCP as the course you will take.
Key concepts associated with hazard analysis as per International Standard.
Able to understand the entire process of Internal Auditor Processes.
Develop the ability to plan and organize an internal audit.
Collect and Analyse Evidence, Exercising objectivity for various instances.
Know how to evaluate and report the results of an internal audit and prepare
Course highlights:
Management system – why and what?
Prerequisite Program and Risk Management
ISO 22000, FSSC v5, HACCP Purpose and requirements as per the course.
Initiate the audit
Prepare audit activities
Conduct audit activities
Prepare and distribute the audit report
Complete the audit
Audit follow up
Sample of certificate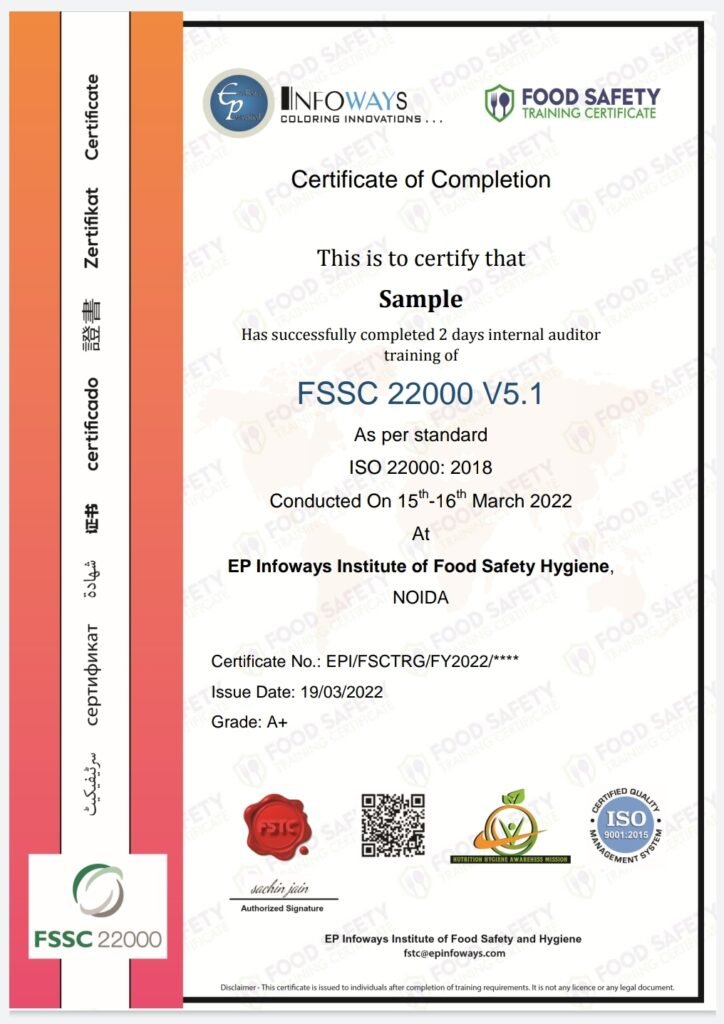 This course will help you:
Prepare, conduct, and follow up on audit activities
Identify and apply the benefits and requirements of an audit
Gain the skills to assess an organization's capability to manage
Write factual audit reports and suggest corrective actions
Offline/ online Bulk Training We are providing offline and online FSSAI FOSTAC, Food safety training programs.
Our clients are Britannia, Haldiram, Dmart, Akshay Patara, and many more, we have successfully conducted FSSAI- FOSTAC, Internal Auditor & other food safety training programs. We are also a training partner of the Karnataka State Government. We have 50+ trainers all over India at the National resource person level.
Feel free to Whatsapp – https://wa.me/917906948844
Looking forward to hearing back from you with your training requirements.
🔔👥 WhatsApp – Join our groups for regular updates (Jobs, News, Training etc) If you are already in our groups, please don't join. All Groups are same.

🔬👩‍🎓 Join Food safety Training Programs (Online & Offline both available)